Elodie Giraud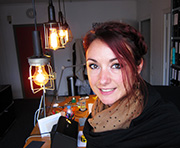 NATIONALITY French
LANGUAGES French, Spanish, English
STUDIES Diploma from the Ecole Nationale Supérieure d'Architecture de Saint-Etienne - France
HOBBIES Movies, Photography, Music.
ACTIVITIES Ski, mountain walks.
PROFESSIONNAL EXPERIENCE
KellerArchitects Geneva July 2012 to today
Project architect: Design, construction documents, construction management, construction administration.
Yves Grousson Architect Saint-Etienne France september 2007 to november 2011
Bureau d'architecture et de construction de 6 personnes.
- Conception architecturale de la phase esquisse à la phase exécution en marché public et privé.
- Participation à de nombreux concours pour des projets d'envergures (équipements sportifs, maison de retraite, école, logements collectifs ou groupés,...)
- Réalisation d'images de synthèses.
- Gestion administrative diverse (bon de paiement et situation de travaux, dossier candidature marché public,...).
STAGES
Agence Yves Grousson Saint-Etienne 2006 et 2007
Travail sur des projets de réhabilitation et d'extension : relevés d'états des lieux, plans, conception projet. Suivi de chantier
Agence Brenas Doucerain Architectes Grenoble France 2004
Projet de construction de logement collectif : esquisse, maquette et images de synthèse. Suivi de chantier.
Agence Cigolotti Architecte Saint-Bonnet-le-Château France 1999
Découverte du métier : relevé d'une habitation existante et re-dessin de plans.